The Glenturret LALIQUE Restaurant
A Michelin starred gastronomic experience set in the heart of Scotland's oldest working whisky distillery, the first of its kind worldwide.

Our luxurious and intimate seven table dinner-only restaurant overlooks the old still houses and tumbling waters of the River Turret.
Journeying through dishes inspired by The Glenturret, the Scottish culinary landscape and its unparalleled ingredients, all delivered with the seamless service and the Scottish warmth that The Glenturret has in its soul.

Dinner is served Wednesday to Saturday.

From £195pp.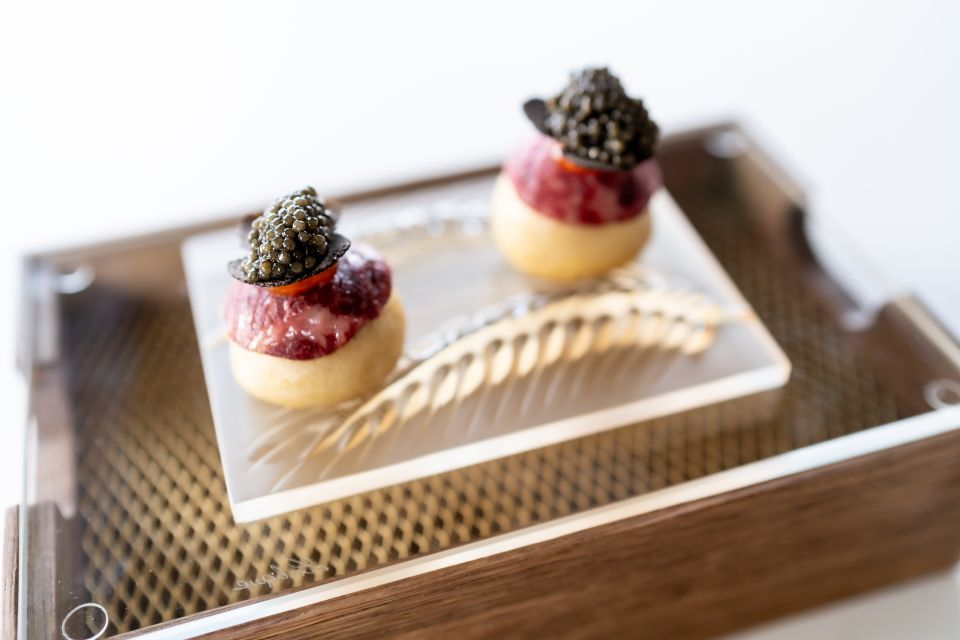 Dinner Menu
Raspberry, Liver, Cocoa
Raw Cherrystone Clam, Gooseberry & Dulse
Spoots & Rausu Kombu Tart

Tattie Scone

Malted Barley Sourdough, House-Cultured Butter

Langoustine, Buttermilk, Sturia Caviar

Bisque-it

Monkfish, Girolles, Pike Roe
Lobster Toddy
Foievioli

Cured & Bbq Lamb



Perthshire Blueberry, Sake Lees, Jasmine

Maracaibo Mille-Feuille, Green Coffee, Glenturret Triple Wood


The Sweetie Box
Vegetarian Tasting Menu
Red Currant, Crowdie, Cocoa

Salted & Pickled Nectarine
Rausu Kombu Tart
Tattie Scone


Malted Barley Sourdough. House-Cultured Butter


Meat Radish, Matcha, Green Juice

Purple Potato & Fermented White Asparagus
Chawanmushi
Sweetcorn, Mustard, Black Truffle

Juniper Smoked King Oyster
New Make Blood Orange Marshmallow Sour

Maracaibo Mille-Feuille, Green Coffee, Glenturret Triple Wood


The Sweetie Box

Download Vegetarian Tasting Menu